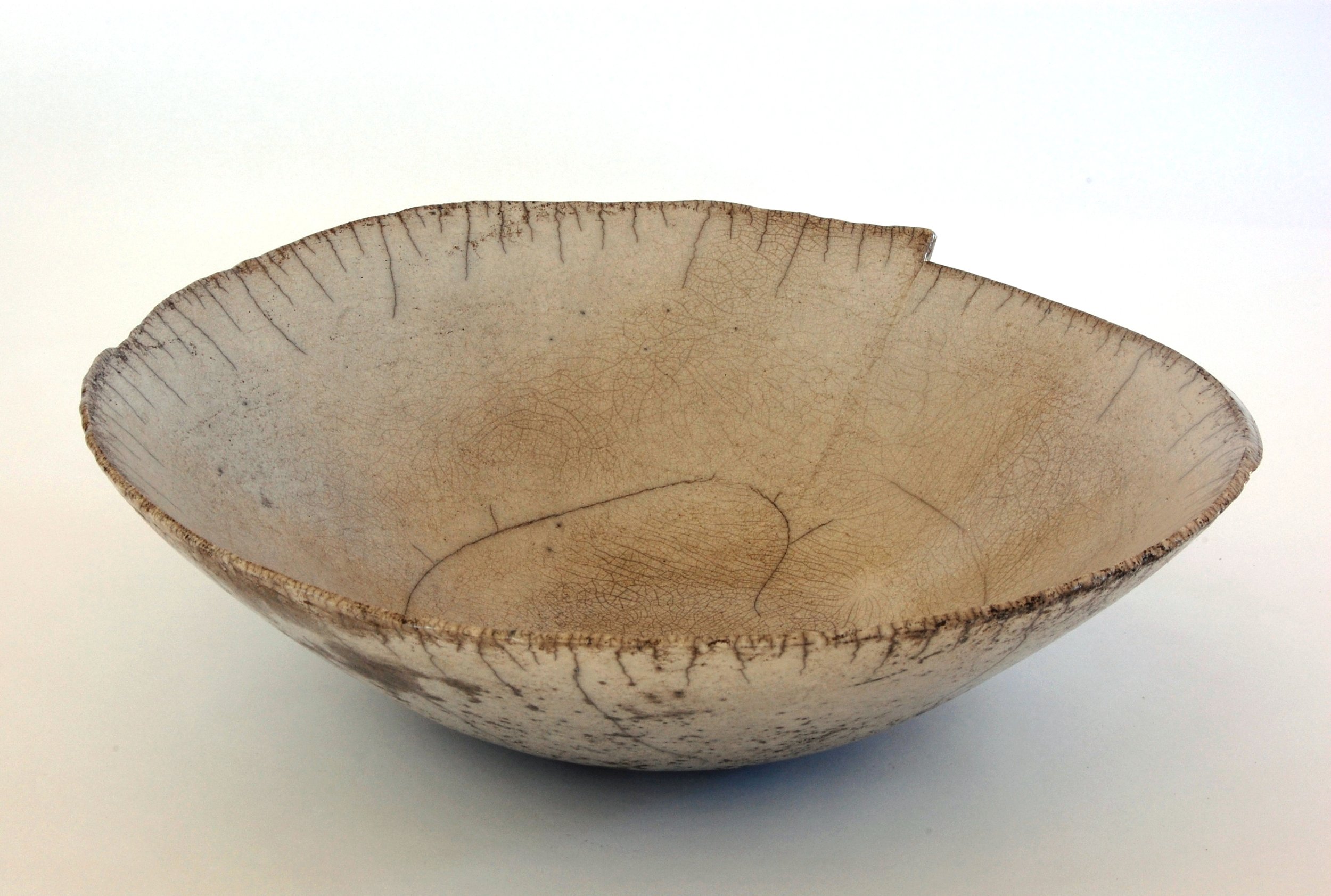 Stephen's work is driven by an obsession with clay and its versatility. He makes ceramic forms and vessels which are hand built and Raku-fired.
These evolve through a sustained exploration of form and process. Influences are diverse and come from a fusion of visual elements seen in the natural and built environments. The effects of weathering, erosion and decay provide a constant source of reference. Small groups of related forms are hand built simultaneously. The slow and contemplative pace of coiling allows for considered developments and refinements to be made. Each stage of construction enables intuitive and selective marks and textures to occur.
Glazing and firing methods are adapted to enhance the form and surface of each piece. This combination of the making, glazing and firing methods result in one-off pieces which are completely unique.
My addiction to working with clay began at Soham Grammar School in the 60's. Encouraged by the art teacher, Peter Askem, I progressed on to the excellent two year foundation course at Cambridge School of Art. It was here that I experienced my first Raku firing under the guidance of the pottery tutor, Zoe Ellison.
Having identified ceramics as my main area of study, I was accepted onto the B.A. (Hons) course in three-dimensional design at Farnham School of Art. This course, run by Henry Hammond and Paul Barron, proved to be a rare and inspirational experience. Influences were plentiful: Sebastian Blackie (tutor), Duncan Ross (technician), Dave Burns and Magdeline Odundo (fellow students) to name but a few!
We were encouraged to build our own kilns, mix glazes and dig our own clay. Drawing was considered an essential ingredient and supporting studies such as printmaking and wood work added to the melting pot. During my third year I specialised in large scale architectural forms and related processes which remain evident in my current work.
This was followed by a post graduate year at Middlesex Polytechnic (Hornsey College) where I completed the Art Teachers Certificate.
Since then I have combined teaching in various schools and colleges with developing my own work. After ten years in Wiltshire working as the pottery tutor at Marlborough College, I returned to establish the current workshop in my native fens at Wicken in Cambridgeshire.
As a young Foundation student I can remember admiring some Hans Coper pots at the Primavera Gallery in Cambridge. These were a group of small, black Cycladic forms 28-32cms high. Each individual form had a very strong and time-less presence. The way the pieces were arranged in small groups created powerful spaces between each form. Clay is a very tactile medium. A pot can be appreciated through touch and handling as well as by making a purely visual statement. These are qualities which I strive to achieve in my own work.
In recent years my work has focussed on the vessel or pot form. The possibilities for containing and revealing space are endless. Open, flat forms provide an infinite range of shapes for experimenting with surface textures. Closed forms contain that mysterious inner space, not always visible. Subjecting these forms to the effects of flame, smoke and heat generated by the Raku- firing, provides an extreme selection process for each piece.
I like to make 4-5 similar forms at a time. The work will range in scale from small (fist size) to very large (tallest 70cm, 50cm across for open forms).
It is a constant search for the right blend, just like mixing the recipe for your favourite soup. Add the ingredients, turn up the heat, stir it a bit and hope it tastes good! There will always be something you can add or take away to improve the flavour.