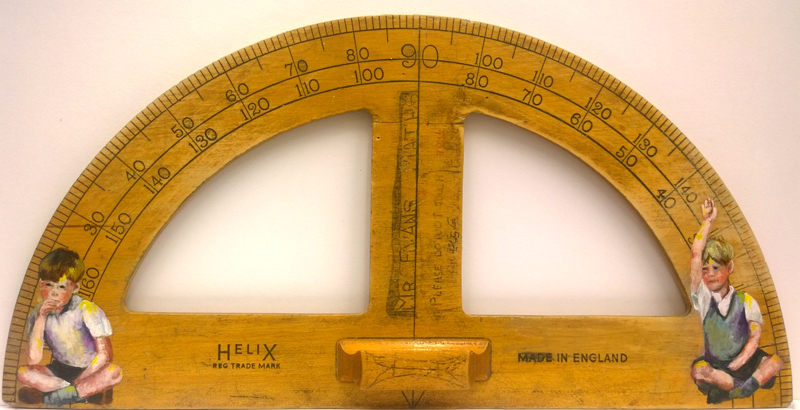 Lindsay Madden paints nostalgic depictions of school children with a carefully cultivated naïve painting style which perfectly suits the subject matter. That coupled with her use of old school rulers to paint on allows her to create unique and special compositions. Her quirky paintings are fun and memory provoking, a great source of conversation and smiles. She graduated with a 1st class degree in Fine art in June 2013 at Sunderland University, and now lives and works in County Durham.
Lindsay explains her work:
"My work explores, through painting, the use of objects and photographs, the theme of childhood and growing up; observing my own children constantly changing and recording their individual journeys increased my awareness of the transience of childhood. While these photographic records act as a springboard for my work, I want to suggest more than a frozen moment: questioning the events before the moment; the possibilities and potential beyond it; and the bitter sweet experience of parents watching their children grow. Objects associated with childhood communicate the longing to hold on to the past, while the combination of chalk and paint acknowledge the ephemeral nature of youth. My latest work comments on our experiences of school, the notion of continual measurement – physically, mentally, academically, against peers, conformity, uniformity, isolation, insecurities and freedom."
Lindsay gave us some insight into her views on art and her her role in the art world:
What is art?
I read this once and it completely sums up what art is to me 'Art enables us to find ourselves and lose ourselves at the same time' ....sorry not sure who said it.
Why is art important?
Everyone has a different way of understanding and learning and art gives us another dimension to interpret our world.
What is the purpose of your role as an artist?
For me, I see my role as an artist is to invite the viewer to probe their memory archives and apply their own narratives.