Helen has been making sculpture for over twenty years and has an illustrious list of followers. We are over the moon to be able to offer some of Helen's latest limited edition stone resin sculptures for sale and can source other examples of her work on request. Many of her works are also available as bronze casts and these can be specially ordered. Helen's editions are normally between 9 and 25 pieces per sculpture.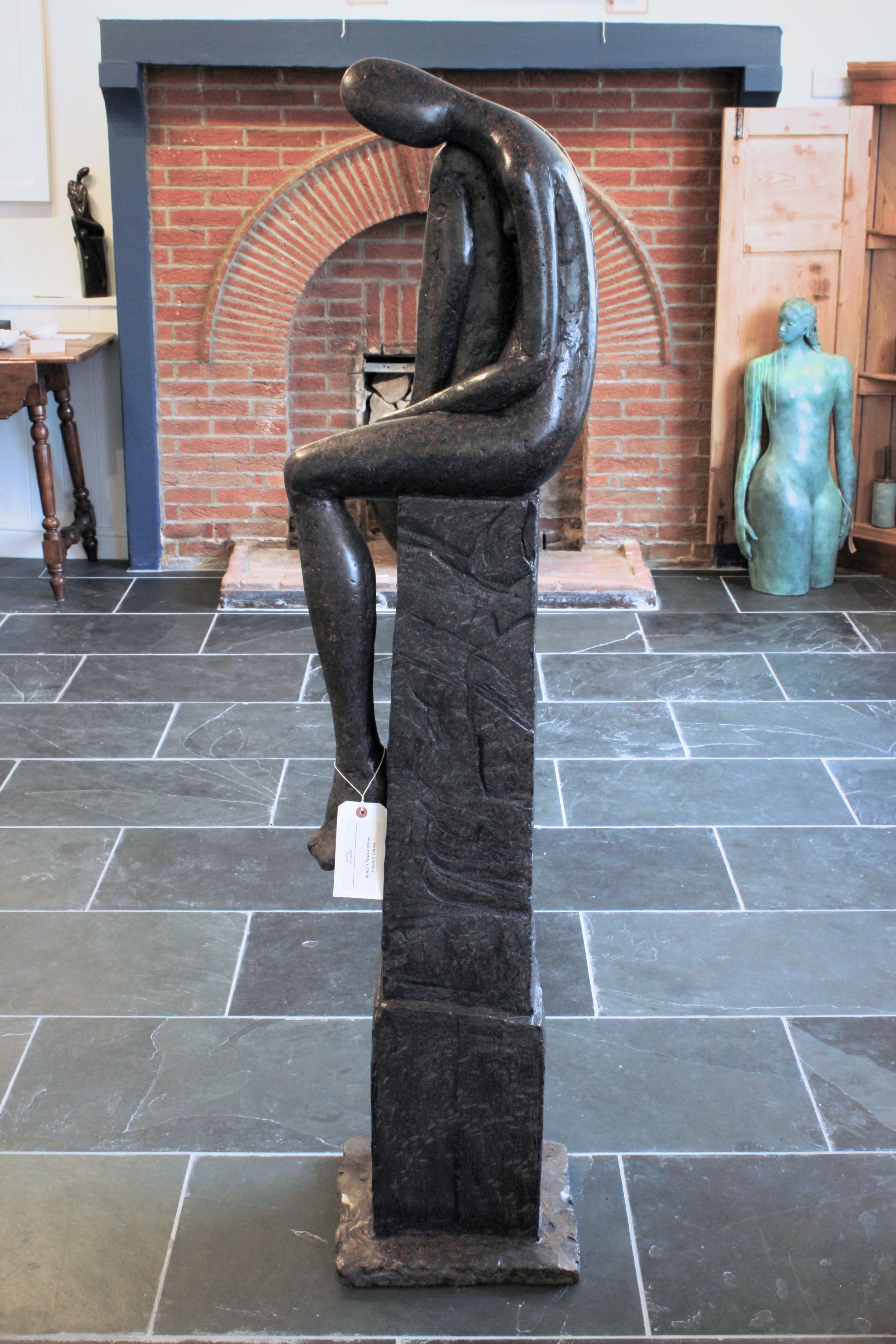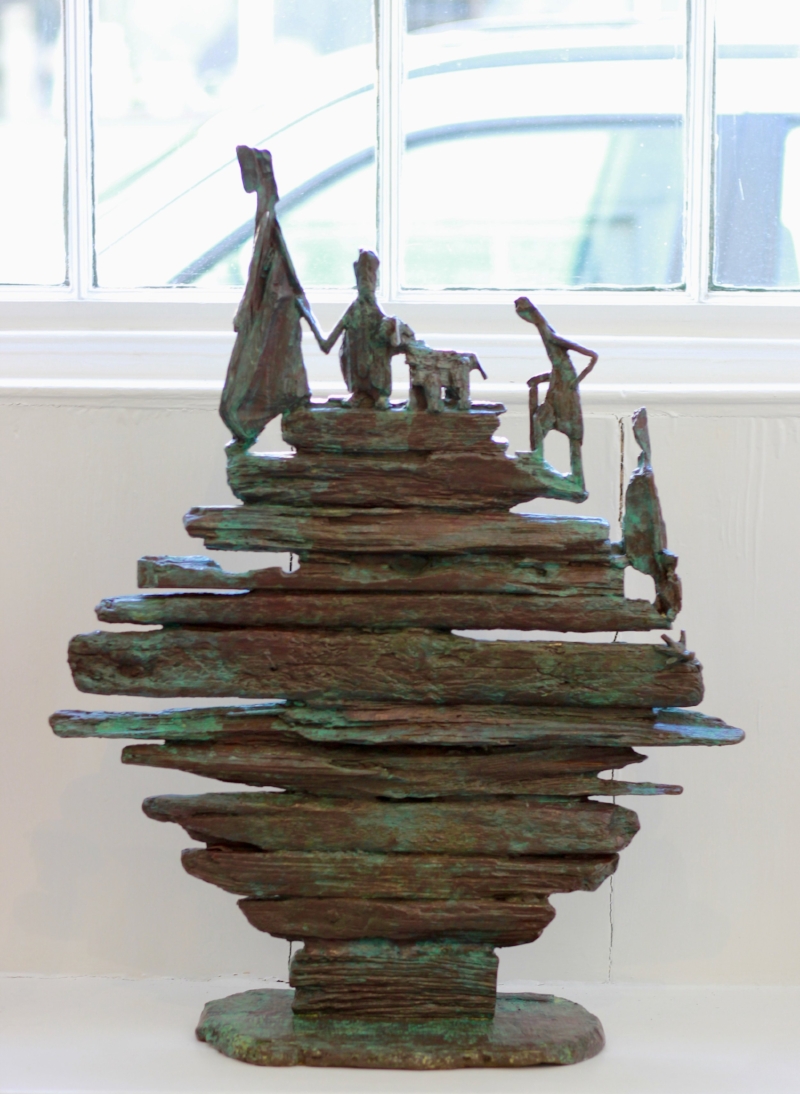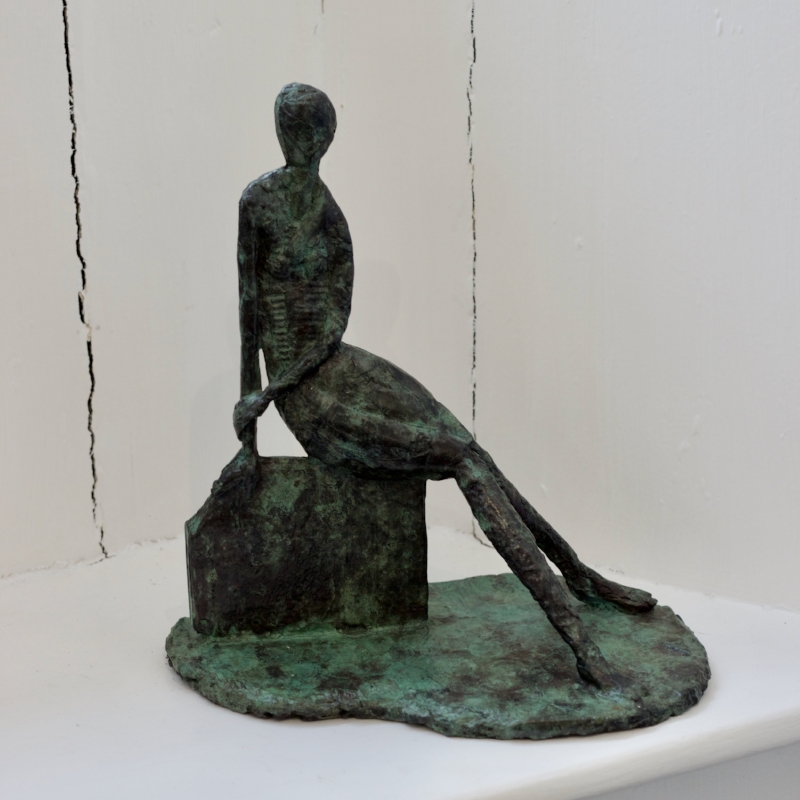 Biography:
Helen Sinclair was born in South Wales in 1954. She studied sculpture at Wimbledon School of Art (1972- 1976). After teaching for twelve years, she has been a full-time sculptor since 1988. With her technician (traveller and writer Gary Ley) she does her own mouldmaking and resin casting. All her bronze sculpture is cast at the MB Fine Arts Foundry in Pembrokeshire.
Her influences include the sculptural forms and mythology of ancient civilisations (Etruscan, Egyptian, South American), Italian Renaissance sculpture (especially Donatello) and twentieth century sculptors : Emilio Greco, Medardo Rosso, Giacometti and, most notably, Willhelm Lehmbruck. She also looks to painting for inspiration, especially Picasso, Matisse, Chagall and Modigliani.

Many of my pieces are cast in editions and sold via exhibitions. Others are commissioned - for instance by Gary Rhodes for one of his restaurants, by the Vicar of All Saints in Fulham (for the churchyard) and by Chichester Cathedral for the grounds of an historic almshouse.
Helen exhibits widely in the UK and has work in private collections on four continents.

Some insight into Helen's work, processes and inspirations:
"I have been making sculpture for over twenty years and the process is still a delight to me. With every piece I make, I find the working process both comfortingly familiar and refreshingly surprising.
Although not the only subject I work from, the human form is the one I keep coming back to: the actual figure (in movement and at rest, clothed and unclothed) and the figure as depicted by other artists in any medium and at any phase in history.
I make semi-figurative sculpture, cast into either resin or bronze from originals which I make in plaster, clay, wax, cardboard, wood.
The materials I work with are as stimulating to me as the subject matter. I live by the sea and collect driftwood, broken furniture, discarded plastic debris and other beach-found 'stuff', all of which regularly introduce new and unexpected vocabulary to explore. I have made small and large sculpture entirely of found material. These are all foundry-cast by the traditional lost wax method. Any of my small pieces can be thought of as maquettes for larger pieces."

Q & A with Helen:
1. How old are you?
sixty this year (which, people tell me, is TWICE as good as thirty - and I'm only just starting to feel grown-up)
2. Where did you train?
Dyfed School of Art in Carmarthen (foundation course 1972 - 73) and Wimbledon Scholl of Art (B.A. Hons in Fine Art/Sculpture 1973 - 76)
3. What inspired you to become an artist?
Probably my mother who wasn't an artist but could have been. She introduced me to a lot of great art and she loved drawing, painting and making things - and she cared about getting things right (a colour, a line in a drawing, a verb in a sentence). So she communicated an understanding of the frustration and the joy that creativity can be.
4. What is Art?
Art (in all the arts) is a magic-trick. It's pointless, meaningless, without purpose or importance - BUT , when people 'get it', it offers a fleeting glimpse of what human existence is for (and what 'matters' on some indefinable cosmic scale)
5. If you weren't an artist what would you be?
A mathematician. Because mathematics is the key to life, the universe and everything. It's the secret of existence and the poetry of life. It's the 'how' to Art's 'what/why'.
6. If you could travel back in time, what advice would you give your younger self?
1. That most of the greatest achievements are reached by way of tiny increments.
2. To enjoy the ride (because Life isn't about destinations)
3. That few things in life are what they seem and none will be as you expect (nothing will ever be as bad as you fear or as good as you anticipate)
4. That Life is like a toilet roll; it runs out more quickly at the end - So make the most of every day (early in the day, the week, the year)
5. To ignore all advice.
7. Tell me three (add more if you want) things not many people know about you.
I found this the hardest question.
1. I'm 'phone-phobic (I'm not sure this counts because it's probably something that quite a lot of people know about me!)
2. One of my other pet-hates is Velcro - I find the noise and feel of it when you pull it apart very stressful!
3. One of my favourite things is old concrete. It has to be several decades old and preferably cracked/broken (in walls or the surface of yards)
4. Another 'favourite thing' is the night sky. I love walking my dog in the dark and I love long winter evenings and the dark in general.
....and finally....
8. If you had a superpower what would it be and why?
To be able to fly - because I've always lived by the sea and watched seagulls taking such palpable pleasure in riding the air currents. It just looks so exhilarating. We have a lot of hang-gliders and para-gliders along the cliffs here too but that looks laboured and clumsy in comparison - would have to be my own wings!