A COLLECTION OF OILS, MIXED MEDIA AND ACRYLICS
SCENES FROM AROUND THE UK WITH A SLIGHT ABSTRACTION BY EACH ARTIST
15TH JUNE TO 31ST AUGUST 2019
CHRISTMAS ANIMAL ART EXHIBITION
17TH NOVEMBER 2018 TO 2TH FEBRUARY 2019
BRITIAIN'S LEADING ANIMAL SCULPTORS AND ARTISTS PRESENT A DISPLAY OF SCULPTURE AND FINE ART
A TALK WITH JOANN FLETCHER
SATURDAY 17TH NOVEMBER 2018
COINCIDING WITH OUR ANIMAL ART EXHIBITION - SEE ABOVE
ITINERARY FOR TALKS AND EXHIBITION OPENING
EMERGING ARTISTS EXHIBITION
1ST SEPTEMBER TO 3RD NOVEMBER 2018
20+ TALENTED EMERGING ARTISTS ACROSS SEVERAL MEDIUMS
Saturday 1st September 2018
Please join us at the gallery from:
13:00 to 18:00
A SLICE OF YORKSHIRE CREATIVITY
28TH APRIL TO 30TH JUNE 2018
BRENDAN HESMONHALGH, REBECCA APPLEBY, DAVID MAYNE, EMMA MARIA WOODS, ALBERT MONTSERRAT
FEATURING RA AWARD WINNING WENDY FREESTONE
Celebrating our 5th Birthday in Style
17th February 2018 from 16:00 to 21:00 at:
Bils & Rye, 5 Market Place, Kirkbymoorside, YO62 6AB
More details to follow shortly!
Late Opening with music and drinks
Friday 8th December - 18:00 to 21:00

23rd September - 30th December 2017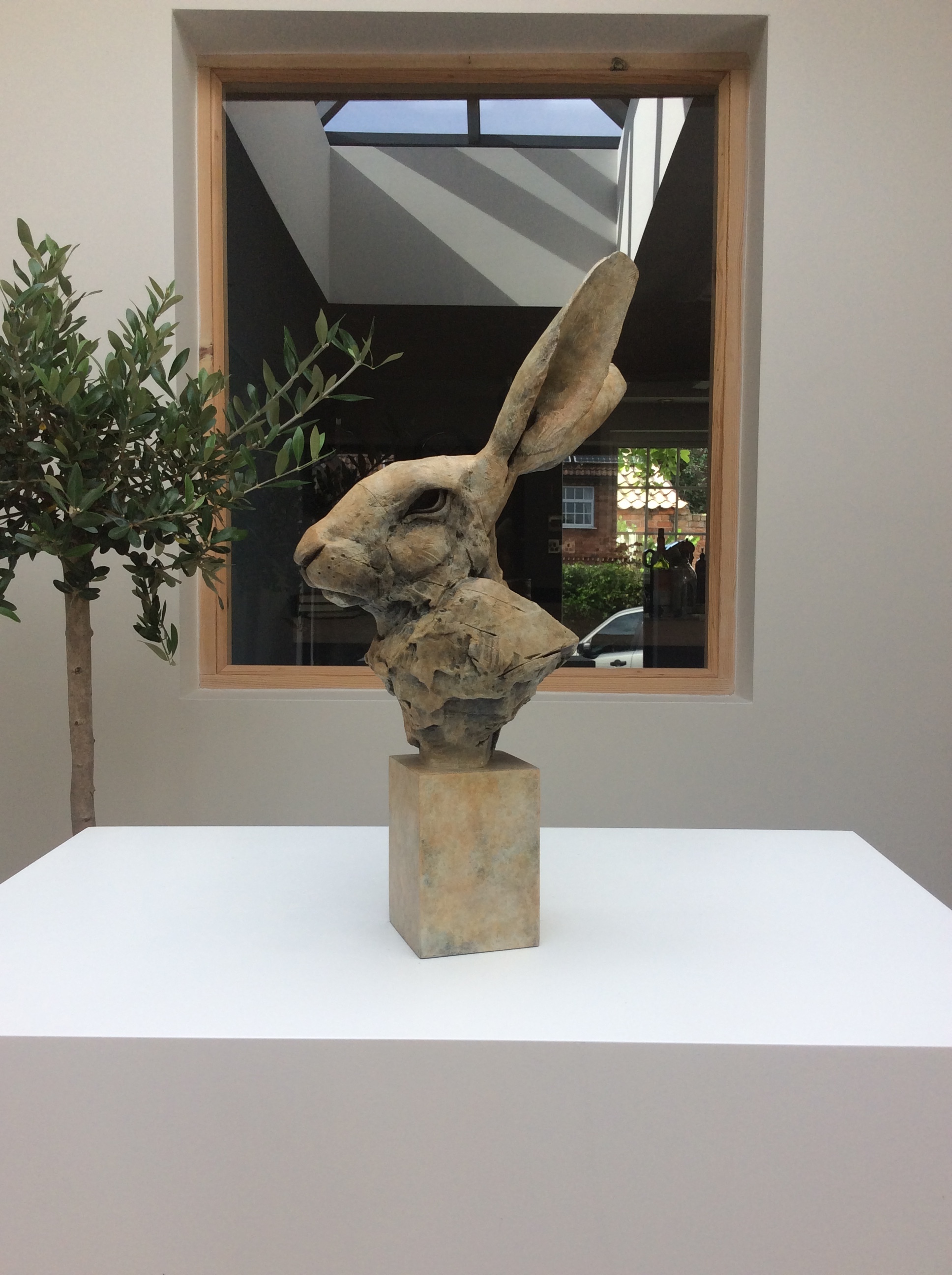 2nd September 2017
Come and Join The Celebration! Canapés, Drinks, Music, New Artworks, New Artists
15:00 to 19:00
French Connection - 7th June to 29th July 2017
Philip Wakeham - Bronze Sculpture - Devon, UK - British
Tatev Ghambarian - Oil on Canvas -Aix en Provence, France - Armenian
Veronique Paquereau - Mixed Media - Lorient, France - French
Anne-Sophie Gilloen - Ceramic Sculpture - Bailleul, France - French

Combining three different styles of work can be a nightmare, not so with these three talented artists. Philip operates his own foundry close to the Cornish/Devon border and makes unique bronze sculptures often influenced by Greek mythology. Tatev's work has a retro 20's feel to it whilst being illustrative. Veronique works are influenced by her family history of printing with a stunning modernisation in the mixed media finish.
All are equally figurative in their work.
4th Birthday - 11th February 2017
The piano will be played from 15:00 to 18:00, thanks again to Aidan Delacey-Simms from the Piano Workshop for providing the piano and finding another pianist for the afternoon. Anyone is welcome to come and try the piano before or indeed at any other time. Aidan will be on site, along with members of his team to discuss restorations and the sale of the Schiedmayer piano.
Christmas Concert - 21st December 2016
We are delighted that The Piano Workshop, also of Kirkbymoorside, have arranged for Robert Schmuck to come into the gallery on Wednesday 21st December 2016 and play for an afternoon on their recently completed renovation of a Schiedmayer Boudoir Grand. All our welcome, please can you RSVP to nick@bilsandrye.com
Christmas Art Exhibition - 19th - 23rd November 2016
Another first for Bils & Rye is this joint venture with Sir Paul and Lady Edwards who are bringing four of their favourite artists to the gallery for a short show in time for Christmas. Regulars will recognise Robert J Wyatt's work who is a gallery regular, we are excited to see the new works he has produced along with Terrance Bennett who features in our own personal collection. John Sprakes and David Venables join them with Yorkshire inspired work. We do hope you can join us for the launch on the 19th November from 12:00 noon.
Cambridge Art Fair - 29th September 2016 - 2nd October 2016
Come and find us with our eclectic mix of ceramics, sculpture and paintings in the Guildhall, Cambridge. We have some great new work lined up for the show.
Emerging Potters Competition and Exhibition - 1st September 2016 - 31st October 2016
Here at Bils & Rye we love to shout from the rooftops about ceramics! This year will see our inagural emerging potter show, timed to run around Ceramic Art York. From the 1st September 2016 to the 31st October 2016 we will show a selection of ceramics by emerging makers from the UK and Ireland.
Applications to the show are open now until the 15th July for makers who can satisfy the following critirea:
Less than 3 years post graduation

Less than 5 years working from own or shared studio
Read more here.
Porcelain Perfection - 14th April 2016 - 31st May 2016 - Nunnington Studios
Our second show of 2016 sees porcelain artists from around the UK join the gallery. With new works in from Chris Keenan, Albert Montserrat, Richard Heeley, Norman Yap and Ali Tomlin to show alongside Katharina Klug, Sheila Madder, Elaine Bolt and Hyejeong Kim. As ever there is an eclectic mix of other ceramics, sculpture and paintings including new works by Bill Zima and Carne Griffiths.
On the 29th April we celebrate the reopening of the cafe in the courtyard. Fryton Catering (long term outside caterers in Ryedale) have taken on the site and will be opening a small gift shop to complement our own gallery and the Farrow & Ball shop making Nunnington Studios a thriving destination once again. We hope you will join us for a drink or two, canapés and a hog roast thanks to Fryton and their team. Our latest newsletter will have more details once they are finalised this weekend.
Searching For Enlightenment - 10th February 2016 - 14th April 2016 - Nunnington Studios
Our first show of 2016 sees a combination of sculpture and paintings that set the mind to work. With star sculptors Simon Gudgeon, Helen Sinclair and Tom Hiscocks, to super ceramicists Akiko Hirai and Midori Takaki ably supported with Laura Rich, Bill Zima and Amy Albright we think it is a thought provoking show with the highest standard of work we have had the opportunity to exhibit.
We launch with a party to celebrate our 3rd Birthday on the 13th February and would be delighted if you can join us. Please RSVP here.
Small Business Saturday - 5th December 2015 - Nunnington Studios
An informal gathering from 10:30 to 15:30 at the studios, with fizz, mince pies, artists, laughs and a bit of art.
HIVE 2015 - Harrogate International Visual Arts Expo - 20th - 22nd November 2015 - Harrogate International Centre
Kate & Nick Bentley
Founders and owners of Bils & Rye Kate and Nick Bentley live for art. It is there passion, along with two daughters and two errant dogs.
Kate spent the last 10 years working as an artist, recently taking a break to spend more time in the gallery alongside home schooling her young daughters. Her work covered figurative through to seascapes and much in between and her last body of work was a series showing the diversity of Highland Cattle! She has a love of dogs, horses, chocolate and entertaining (not necessarily in that order). Her greatest influence has been her incredibly arty family.
Nick spent many years in a variety of careers including air traffic control, building, event management, catering and sales. Never has he been happier than running the gallery. He has no formal art training, preferring to believe in aesthetics and finish rather than theory. Outside of art and ceramics in particular, Nick loves motor racing, cricket, reading and eating out! Wine is also quite important.
Ten wonderful Jack Doherty soda fired porcelain works arrived today and look resplendent in the gallery. We love th…

https://t.co/LW35quFLrr